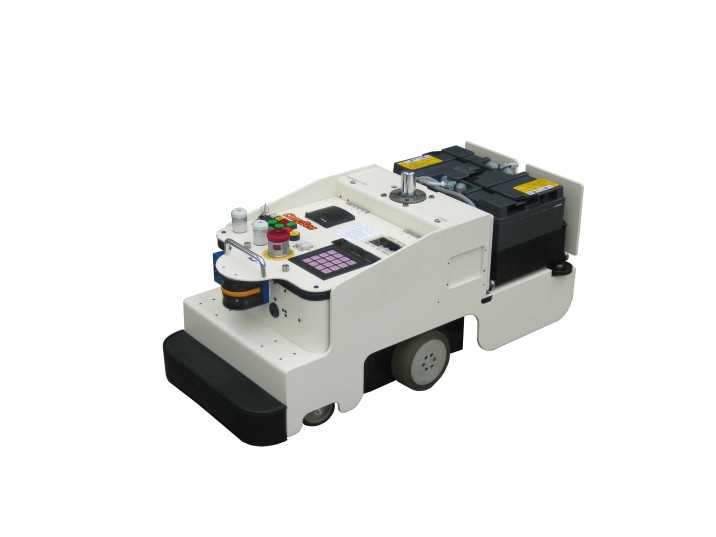 Programmable / No Programmable
Programmable (Count Up)
Transportable Weight
300kg (Forward), 600kg (Forward and Reverse)
Guidance Method
Magnetic, 〈Optical〉,〈Optical&Magnetic〉
Drive Method
Forward: 2WD, Forward and Reverse: 4WD

Driving Speed
Max. about 50m/min
Length x Width x Height
Forward: 820×350×350, Forward and Reverse: 1400×350×350 (mm)
Minimum Turning Radius
Forward: R350, Forward and Reverse: R800 (mm)
Continuous Operation Hours
8hrs (depending on operation rate and battery size)
Performance・Function
Running functions
 ・Setting speed: 10 speeds
Control function
 ・200 programs, 200 steps, operation mode (Straight running, Right turn, Left turn, Stop, Speed change, Obstacle sensor changeover, etc.), 〈200 patterns of operation mode are available〉, 〈Intersection Entry Priority〉, 〈Wireless running route control〉, 〈Start by remote controller〉
Safety functions
 ・Overload detection, Obstacle detection (Detection area changeable), Emergency stop switch, Buzzer alarm for abnormalities, Signal tower, Bumper sensor, Melody unit
Others
 ・Drive wheel free structure in manual operation, 〈Electrical powered pin hook〉, 〈Battery〉, 〈Charger〉
 ・CE marking is available
Reference
〈 〉:Option
CarryBee is an unmanned carrier system which can rationalize conveyance between processes, parts supply to production lines and cellular manufacturing (assembly on AGV).